JOYOUS NEWS
5 quirky museums in Delhi that will make your weekend exciting!
Quirky themes of these museums will make you fall in love with them 
---
Delhi is a place where you can do a lot of exciting things. There are bars, monuments, cafes, and museums. Today, we will tell you about five quirky places where you can visit with your friends this weekend.
1. Fruit Bull:  It is a place for the people who have an obsession with food. Delhi's love for food is no more a secret now, and taking that love to another level is this 3D museum dedicated to Ice Creams. This desert parlour is located in the heart of the capital (CP). They serve an impressive menu which is about keeping healthy. All natural ice-creams have a creamy taste and really hit the sweet spot even without any added sugar or artificial flavour. The museum is filled with giant installations of ice creams and juice-falls on the wall. As Summers are here.  It is the  best place to visit
Entry: Free of cost
Timings: 10 am to 12 am
2. Shankar's International Doll Museum: It is one of the oldest museums in Delhi.  It was established in the year 1965. This place is kind of dreamland for children. It has over 6,500 dolls from 85 countries. The brainchild of renowned political cartoonist, K Shankar Pillai, the museum was inspired by a gift of a single doll that he received from the Hungarian Ambassador in the early fifties. It is located in Nehru House Bahadur Zafar Marg.
Entry: only Rs. 15
Timings: 10 am to 6 pm (Monday closed)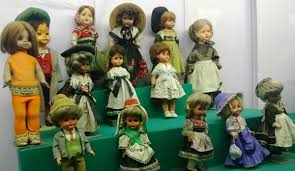 3. Sulabh International Museum of Toilets: This museum falls under the 10 most unique museums in the world. The Sulabh International Museum of toilets is the brain-child of Dr. Bindeshwar Pathak.  It was made in 1992 in Delhi.  It has some of the oldest toilets from the end of the 20th century which were known to man. Find out more about the story of a king, who got a commode installed in his throne to save time, at the toilet museum.
Entry: Free
Timings: 8 am to 8 pm (Sunday – 10 am to 5 pm)
Also Read: A Backpacker's Guide To The Cultural City – Gwalior
4. Click Art Museum: Keeping up with the Insta fever that has taken over the millennials, this museum is dedicated to clicking pictures. The museum has about 24 3D illusion artworks on its walls, which you can flood your Instagram with! Challenge Harry Potter or get kicked by Bruce Lee or click a picture with Mona Lisa! Pssstt… she comes out of the frame so be careful.
Entry: Rs 200
Timings: 11 am to 8 pm
5. National Rail Museum: This unique museum has a fascinating and exotic collection of over 100 real size exhibits of Indian Railways. Static and working models, signalling types of equipment, antique furniture, historical photographs and related literature etc. are displayed in the museum. The line-up of old coaches includes the handsome Prince of Wales Saloon, built in 1875. Not to be outdone is the Maharaja of Mysore's Saloon built in 1899 with its brocade-covered chairs and an elegant rosewood bed; one can peer in through the windows for a good look.
Entry: Rs.20
Timings: 9:30 to 5:30
Have a news story, an interesting write-up or simply a suggestion? Write to us at info@oneworldnews.in