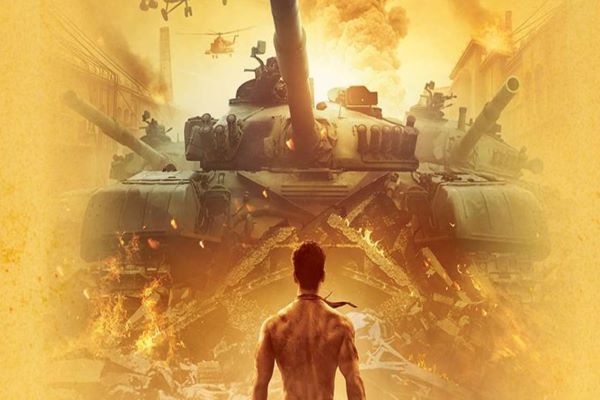 Tiger flexes every muscle in breathtaking action sequences in Baaghi 3 trailer
---
After the success of Baaghi and Baaghi 2, Tiger Shroff is back with the third instalment of the action-franchise with Baaghi 3. He established himself as an action- a superstar with two previous films of the franchise and this time, things seem to be taking off a notch higher. The trailer of Baaghi 3 has just dropped and fans are going crazy already. Tiger is facing fighter machines like helicopters and tankers in the 3:41 minute-long trailer.
Tiger Shroff is seen doing some unbelievable stunts with heavy war machines and helicopter in the war zone of Syria. The trailer also tells the cliche – high pitched dramatic brotherhood story of Riteish Deshmukh and Tiger Shroff. Shraddha Kapoor is riding her scooter with a friend and beeping out abusive words multiple times.
Read more: Top 10 documentaries you must watch to know India better
Baaghi 3 trailer gives away the story of a movie along with the T-Shirt of Tiger Shroff
The trailer gives away the story of two brothers Ronnie and Vikram who share an unbreakable bond. Since childhood, Vikram is saved by his muscular brother Ronnie. Vikram travels to Syria (Thank God not Pakistan again) for work, who then gets beaten and kidnapped by the people who are not to be messed with. But then comes the saviour Ronnie. He is ready to do destroy even the whole country in order to save his brother.
The plot seems like a typical Bollywood masala where a brother is kidnapped, the other brother fights the villain to save him and somewhere in between enters the heroine. However, the action scenes and stunts in Baaghi 3 trailer are breathtaking, it could have better, had there been a better use of VFX. Tiger Shroff flexes all his bulky muscles but his facial expression barely changes. In most part of the trailer, he is either half-naked or forgets to wear his T-shirt.
The film is directed by Ahmed Khan and will release on March 6. It also features Vijay Verma, Ashutosh Rana, and Ankita Lokhande in pivotal roles.
Have a news story, an interesting write-up or simply a suggestion? Write to us at info@oneworldnews.com