Kaam Ki Baat
Are You Ready For Some Positivity Of The Week? Do Not Miss The Last One
Here is some positivity of the week. The last story is very heart-warming.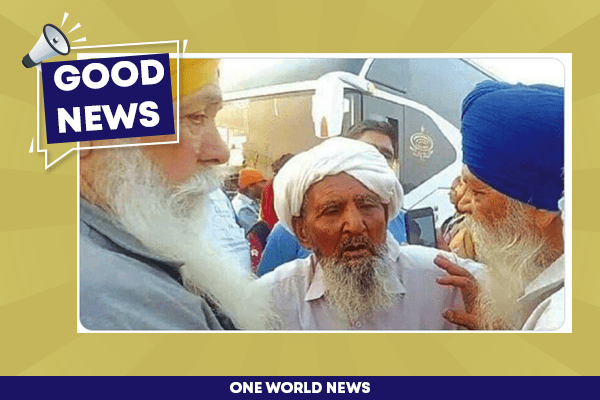 Ever since news of the Omicron virus has threatened India, the country has witnessed few positive cases for this particular variant. However, we had to dig out some Positivity of the week in the form of good news.
Here is some positivity to get you through the week. The last story is very heart-warming.
Positivity of the week: Kitchen gardens for midday meals
Though mid-day meals have opened up in schools again, the soaring prices of vegetables have threatened the quality of the meals provided.
To make schools self-sufficient and to feed children with a healthy meal, the district admin in Tamil Nadu and Trichy has started encouraging them to open a 'kitchen garden'. Now, they can grow vegetables for the mid-day meals on the premises themselves.
Positivity of the week: Re-enrolling students
After reports of kids dropping out of school in Tamil Nadu, a special drive was initiated by Education Minister, Anbil Mahesh Poyyamozhi in June-July 2021. He formed teams of teachers to battle the situation and bring youngsters back to classrooms.
They went door-to-door and identified those children who are not enrolled in school and then re-admitted them.
Over the last few months, the initiative had re-enrolled 1.3 lakh dropouts across the state.
Positivity of the week: Free rides for answering questions
An e-rickshaw driver in West Bengal who had to discontinue his formal education due to financial difficulty kept gaining knowledge and interacted with passengers uniquely.
He gives free rides for those who answer 15 general knowledge questions.
In addition, in a bid to promote religious harmony, the driver said even though he is a Hindu, from time to time, he also wears a skullcap to embrace India's diverse culture.
Positivity of the week: Marigold farming brings riches
Thanks to the initiative taken by the State Rural Development Department which provides saplings and other support required to the women living in remote areas of Jharkhand. Now, they have become self-dependent by cultivating marigolds.
Farmers who were earlier involved in traditional farming gained minimal profit. In Jharkhand, they have started talking up marigold cultivation, drawing nearly ₹1.5 lakh profit per acre every year.
Positivity of the week: Naxals given a second chance
Surrendered Naxal women launch their first product a floor cleaner in Gadchiroli. They surrendered and were then trained with the help of some NGOs by @SP_GADCHIROLI and have now launched their own first product for sale in mainstream markets @ankitgoyal_ips pic.twitter.com/8Rc50TZw2M

— Divyesh Singh (@divyeshas) November 21, 2021
Due to the efforts of Gadchiroli Police in Maharashtra, women Naxals who had surrendered now have turned into entrepreneurs. They are now manufacturing and selling phenyl, a floor cleaner under the brand name of 'Clean 101' As many as 11 former Maoists, including 1 man and 10 women, were trained in manufacturing Phenyl.
The initiative is the brainchild of Ankit Goyal, Gadchiroli Superintendent of Police. She worked to create an SHG (Self-Help Group) for them.
Positivity of the week: India registers 2nd highest GST collection in November
India has witnessed a record-setting GST collection in November. ₹131526 crores were collected and it is the second-highest ever since the introduction of GST, second only to that in April 2021.
In this amount CGST was ₹23978 crore, SGST ₹31127 crores, IGST is ₹66815 crores (including ₹32165 crores collected on import of goods) and cess is ₹9606 crore (including ₹653 crores collected on import of goods).
Positivity of the week: Kartarpur Corridor reunites separated friends
Religion and pilgrimage aside for a moment… this is a heart-warming story from Kartarpur Sahib ❤️❤️

The Kartarpur Corridor reunited two nonagenarians friends, Sardar Gopal Singh (94) from India and Muhammad Bashir (91) from Pakistan. They had got separated in 1947. pic.twitter.com/VnKoxhKxLb

— Harjinder Singh Kukreja (@SinghLions) November 22, 2021
The opening of the Kartarpur Corridor brought many heart-warming stories. One of those is of two friends who reunited after 74 years. Sardar Gopal Singh met his childhood pal Mohammad Bashir, who had separated from him after the partition. However, the reunion is the most wholesome thing you will see today,
During the partition of India and Pakistan, Mohammad Bashir who is now 91 years old, went to Pakistan while Sardar Gopal Singh who is 94 years old now remained back in India. The two met and reminisced about their childhood memories.
Liked this post?
Register at One World News to never miss out on videos, celeb interviews, and best reads