Kaam Ki Baat Karona
Anganwadi Workers protest Enters 3rd Week, What are Their issues with Kejriwal?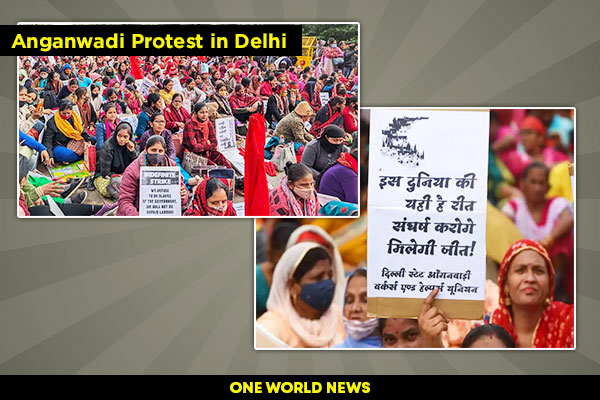 Why are Anganwadi workers protesting? Protestants alleged to be harassed & molested.
---
Highlights:
Why are Anganwadi workers protesting?
The sad plight of Anganwadi workers
Angst against Kejriwal
Kejriwal in a fix?  
Threats made to Anganwadi workers to stop protest
Protesting Anganwadi Workers molested, harassed
It has been 19 days since Anganwadi workers started protesting in Delhi outside Chief Minister Arvind Kejriwal's house. Since 31st January hundreds of Anganwadi workers and helpers have been camped outside Delhi CM Arvind Kejriwal's home, wearing red shawls as a symbol of their sisterhood.
Why are hundreds of Anganwadi workers & helpers on an infinite strike in Delhi?
|| How workers and govt. are fighting each other through WhatsApp ||

* Hundreds of #women anganwadi #workers and helpers have been on an indefinite strike for the past 16 days outside Chief Minister #ArvindKejriwal's residence in north #Delhi. (1/3) pic.twitter.com/kMOaV9unxd

— Nikhil M Babu (@ikasnik) February 16, 2022
The protest, led by the Delhi State Anganwadi Workers and Helpers Union (DSAWHU), has one major demand:
The workers want to be recognised formally as employees. The workers have also stated that they are being deprived of minimum wage.
Read More- Wine Shops in Delhi Residential Area, women ask government 'Kya Hua Tera Wada'?
The workers also fear they will be redundant under the new education policy, which aims to involve Anganwadi workers and helpers to provide pre-primary education.
The sad plight of Anganwadi workers
Helpers who are paid less than workers have their own set of concerns.
Maya, a Anganwadi worker said, "We as a helper get ₹5000 now, sometimes less than that. Helpers should be promoted. Our ID cards and uniform are not valued at all."
"The union government announced a raise in our honorarium in 2018, but even after 40 months have passed, we have not been paid according to this increased honorarium. As a result of the union government's raise, Kejriwal reduced the Delhi government's share in our honorarium," said Anju, an Anganwadi worker.
Angst against Kejriwal
Last week DSAWHU held a press conference in a bid to expose the "betrayal of the Kejriwal government".
Anganwadi workers in Delhi said that Arvind Kejriwal and the Aam Aadmi Party (AAP) have ignored their demands for months but are making tall promises to counterparts who are engaged in the scheme in poll bound states like Punjab and goa.
Read More- 6 Good News that Relieved Us at the time of distress
Kejriwal in a fix?  
The protest comes at an awkward time for Kejriwal, as he is currently campaigning in other states for the AAP ahead of the assembly polls.
The AAP is banking on its "Delhi model" to garner votes. In Punjab, Kejriwal has promised to credit ₹1000 into the accounts of "all women" in the state.
According to a report by Newsclick, Delhi's Anganwadi workers are planning to expose the "hypocrisy and double talk" of the Kejriwal government in Delhi by visiting poll-bound states, including Punjab, Uttarakhand, Goa and Uttar Pradesh.
Threats made to Anganwadi workers to stop protest
As per a report by the Hindu, a letter sent to Anganwadi workers in Shiva Vihar this week by the Child Development Project Officer read, "As per orders, you should immediately report to your Anganwadi Centres. Else file will be sent to the headquarters for departmental proceedings against you".
Letters with the exact same words were sent to another group in Prem Nagar too, as per WhatsApp conversations.
Protesting Anganwadi Workers molested, harassed
When threats did not work, AAP supporters molested and tore some clothes of Anganwadi women workers who were protesting outside AAP office in Johripur. Complaints have been filed with Delhi Police for the same.
As per the Hindu, "They did not take our complaint initially but took it after we put pressure. Every day we will be going to some AAP office in the city to protest apart from the main protest outside the chief minister's residence", said Shivani Kaul, president, DSAWHU.
Delhi is witnessing one of the largest frontline workers protests ever led by women. Some of them have even brought their children along. But far from engaging with the protesting women, AAP has been alleged of threatening, molesting and harassing the women protesters!
Interestingly, this shocking protest in the National Capital which has been ongoing for weeks now, has no takers from mainstream media. Mainstream media's conspicuous silence especially during the ongoing election season raises lots of questions. Moreover, workers and helpers also alleged that neither Modi government nor the Kejriwal government had shown any concern over their grievances. Therefore, both have to bear the consequences of this in the upcoming election.
Liked this post?
Register at One World News to never miss out on videos, celeb interviews, and best reads.