Hot Topics
Ageism In bollywood, Shefali Shah played role of 'Maa' at 28 & we wonder why don't male actors grow old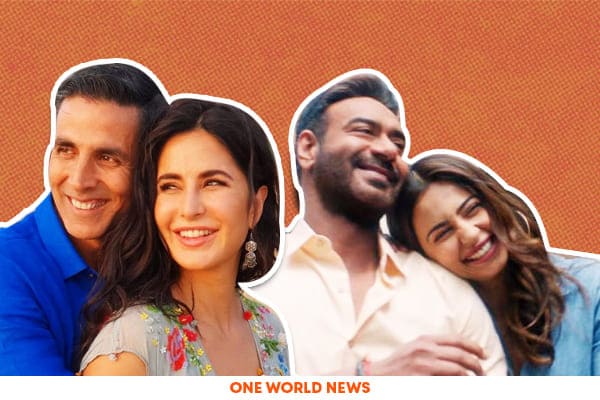 From Bharat to Waqt movies that are prominent example of Ageism in Bollywood
---
A younger actress romancing with an older actor, this kind of ageism in Bollywood is not a new concept. Bollywood so-called evergreen stars, who claimed 'not to age at all, are famous for wooing women. But have you noticed stars like Salman Khan, Shahrukh Khan, Akshay Kumar, Aamir Khan, and many others remain the same through time, but their partners keep changing. The actors keep starring in big-budget movies, but their female coparceners, who started their career at the same time and with them like Kajol, Madhuri Dixit, Rani Mukherji, are usually sobriquet as 90s ki heroines.
At present, they struggle to resume work. Even if they manage to do so, normally they fit in nostalgia films like Kajol in Dilwale or they often get women-centric films. Those who failed to get any movies as their main leads, end up taking roles like Bhabhi, Badi behen, or even Maa. Rest fix themselves to small screens featuring in daily soaps or judging any reality shows.
Therefore, it can be concluded that producers do not look at older female actresses, as bankable as their male counterparts, who are 'stars of all seasons'. If we step further, there is a clear massive age gap between the romantic pairings.
Back in 1994, Akshay Kumar and Raveena Tandon sizzled in the steamy hit 'Tip Tip Barsa Pani. All loved their chemistry and Jodi. However, in 2021, the same song was remade for Sooryavanshi. Only this time Akshay found himself serenading Katrina Kaif, who is 16 years younger than he is.
 Salman-starrer Radhe
 Your Most Wanted Bhai had Disha Patani opposite him. The two had an age difference of 27 years. This norm in Bollywood is very common nowadays. Experts say that the Hindi film industry is just not letting its male actors grow old. Then it does tend to impose a shelf life on female actors.
The trend of ageism in Bollywood is just not restricted to this era. The trend was the same even 56 years ago. In the 1965 release Guide, 42-year-old Devanand was paired opposite a 27-year-old Vahida Rehman. Their age difference was 15 years.
In the 1968 Brahmachari, 21-year-old Mumtaz was paired with 37-year-old Shammi Kapoor.
In 1982, Amitabh Bachchan and Smita Patil starred opposite each other in Shakti. Bachchan was 40 years old back then and Patil was just 27. The age gap was 13 years. There has been a little change in recent years. This age gap has broadened as time passed. In Dabangg Salman Khan was romancing with Sonakshi Sinha at the age of 44, while Sinha was 23. Anushka Sharma was 22 years younger than Shahrukh Khan in her début film Rab Ne Bana Di Jodi.
The latest film 'Prithviraj' is all set to join the club, as the 'Khiladi Kumar' Akshay Kumar will be romancing with Debutante Manushi Chillar. This Former Miss world is only 30 years younger than Kumar.
All these movies are the biggest proof of ageism in Bollywood, when we look at the casting. From Bharat to Waqt: The Race Against Time, women actors play the mother of older male actors who were cast as a hero.
In an interview, Shefali Shah shared her views on prevailing age biases in the film industry. She played the mother Of Akshay Kumar in the movie Waqt at the age of 28, while Akshay was apparently 5 years older than she was.
Unfortunately, everyone is aware of this critique but the talent of a woman actor is judged through the lens of beauty, which is highly youth-centric. The task of countering this gendered age bias falls only on women.
However, not all the actresses are demanding to get cast as young female leads. Some are demanding the roles that suit their age.
In the movie Sand Ki Aankh, Tapsee Pannu and Bhumi Pednekar played the role of 60 years old Shooter Dadi. To this Neena Gupta reacted, "Hamari umar ke role toe Kam se Kam humse kara lo bhai".
Yes i was just thinking about this hamari umar ke role toe kamsekam humse kara lo bhai https://t.co/6Fmrxn0HbE

— Neena Gupta (@Neenagupta001) September 24, 2019
Although in Bollywood, actresses like Deepika Padukone, Priyanka Chopra, Anushka Sharma, are venturing out into producing so that they can create better roles for themselves and others. But the era demands more male producers, directors, filmmakers to step up.
Evidently, they have more powers and enjoy certain privileges in the system.
Liked this post?
Register at One World News to never miss out on videos, celeb interviews, and best reads.