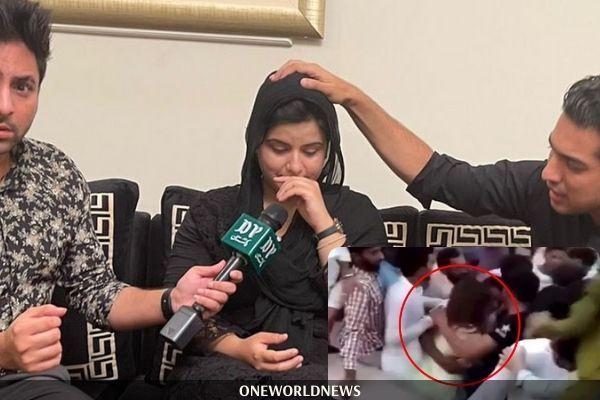 A woman was assaulted in Pakistan on their Independence Day as she was documenting the celebration of Independence
---
Trigger Warning: Sexual Assault
We are a free nation. So is Pakistan. So is America. So is Britain. and so are many other nations in the world. But the irony of times is such that this freedom appears to be selective. This freedom appears to be biased. Recently, as Pakistan celebrated their Independence Day on 14th August, and As we celebrated our Independence Day on 15th August, the news of a woman assaulted in Pakistan on their Independence Day surfaced.
A woman assaulted in Pakistan on their Independence Day, here's a brief of what happened
Read more: As Taliban Sweeps in Afghanistan, Fears for Afghan Women Increase
On Saturday, Pakistan had celebrated its Independence Day, and along with the many iconic places in Pakistan, people were gathered in the Greater Iqbal Park to commemorate Independence. And while for many, it was an occasion to celebrate, for at least hundreds of men took it as an opportunity to abuse a woman, rip away her clothing and toss her in the air. On the Internet, a frightening video of the incident has surfaced.
The woman attacked is identified as Ayesha Akram, a Tik Toker. On the Independence Day Celebration day, Ayesha Akram dressed herself in new green attire and accompanied her friends to one of Pakistan's most historic parks. The TikToker intended to record and film people enjoying Pakistan's Independence Day at Minar-e-Pakistan, the country's most revered landmark. As she was there, a large crowd surrounded her to take a selfie and that's when the haunting incident occurred, The Vice reports. 
Read more: Meet Surekha Yadav: Asia's first woman train driver!
According to the police complaint, about 300 to 400 individuals attacked Tik toker Ayesha Akram and her crew, who were recording a video. Akram's clothes were torn up and she was attacked by the offenders. They threw her in the air many times, and numerous others recorded the occurrence. The crew of Akram was also assaulted according to reports.
The abuse continued from about 6.30 p.m. to 9 p.m. before she was rescued. In her statements, she mentions that there were hardly any people who were coming to save me. "If one person would let go of my clothes then another person would come and try to tear at them," she said to The Vice.
According to Dawn, Under Sections 354 A, 382, 147, and 149 of the Pakistan Penal Code, Akram has filed a police case against the perpetrators at the Lorry Adda police station. Assault, theft, rioting, and unlawful assembly are among the allegations.
She told Dwan that her friends had also been attacked. Her ring and earrings were "forcibly taken" during the battle. Along with that, a cell phone belonging to one of her friends, the identity card, and Rs 15,000 were also taken.
Lahore police are currently seeking to identify and locate the offenders using CCTV video that has been circulating on social media. "Those who injured the woman's dignity and harassed [her team] will be brought within the ambit of the law," Lahore's deputy inspector general of operations, Sajid Kiyani, said in a statement.
Independence is Selective, The Irony
The irony of the time is that the incident took place when people were celebrating Independence Day. When Ayesha Akram was documenting Independence. When Ayesha Akram was accessing her Independence to document it. When she thinks she is equally independent. And while this happened in Pakistan on their Independence Day, this has been happening in the independent countries throughout the world, every next day, every next minute of the year. And well, let's just agree to the irony that independence is selective till the time we end up reaching a space where women's equality and freedom is not a question.
Liked this post?
Register at One World News to never miss out on videos, celeb interviews, and best reads.