JOYOUS NEWS
7 Types of Bridesmaids you will encounter at every Indian wedding!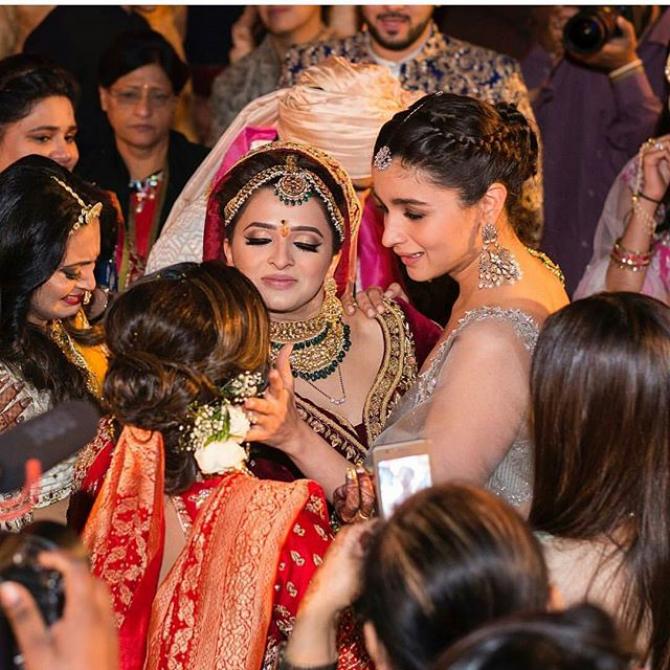 From 'Snapchatter' to 'Jootha Chappuis' expert! It's all about types of Bridesmaid!
---
So, Indians are quite famous for their big fat weddings. Indian weddings are full of beautiful rituals and customs. No matter how many weddings you have attended in your lifetime, but there are few things that always remain common in every Indian wedding-dressing up, dancing, delicious food and of course, how can we forget types of bridesmaid?  We bet you all must have come across gorgeous 'dulhan ki behen' who remains overprotective of her lovely bride- to- be the sister. There is always one friend in bridesmaid gang who is obsessed with clicking pictures and she keeps updating everyone by posting some pictures from ladies sangeet to vidayi. Well, big thanks to social media expertise.
Here, are few types of bridesmaids you will encounter at every wedding!
Bride's Shadow: Every Bride wants companions who always remain along her side to guide her at every step. She has been by the bride's side ever since the wedding date gets fixed, and is probably her soul sister. Right from feeding the bride during her Mehendi function to helping her get into her wedding attire, she is her shadow. She is right on her bestie's side until her vidaai.  So basically, she is bride's sister.
The planner: Most important bridesmaid is one who plans everything. The one you will see walking around with a diary and a phone in her hand, managing everything! Right from making sure that the mandap is well decorated to checking with the groom's side on the whereabouts of the baraat, the planner will make sure that her bestie's big day goes as planned! A planner will give her 100 percent to make her besties' wedding dreamy.
The party starter: Not saying that she is the exact opposite of the disciplinarian, but this is a bridesmaid who is as cool as a cucumber. You will see her mingling with guests, getting all the juicy gossip, tasting the yummy chaat and shaking a leg on the dance floor with the baraatis. She is the fun one, but unfortunately, is not reliable for work. She is not shy at all and will be the first one who will shake her legs on bhangra tune.
Social media freak: You will encounter this bridesmaid at almost every wedding. She will post all the pictures from chooda ceremony to vidyaai on social media with the hashtag #BestieKishaadi!
Also Read: Getting Hitched In the 30s Can Lead To A Blissful Marriage
Fashion queen: Do we really need to explain this one? Alright, we will! This is the diva of the wedding, the one with the most unusual but sexy outfit, make-up that perfectly complements her dress and an attitude that could give any actress a run for her money. All the young guys at the wedding are definitely swooning over her because she is oh-so-pretty!

Dost Ki Shaadi
Joota Chupai Expert: We can still believe if you have never encountered any of the bridesmaids we mentioned above, but the joota chupai queen is simply stunning. She knows all the unique and crazy places to hide the groom's shoes. She is even amazing at negotiation and is always able to get the sum of money she asked for!
Bodyguard like Bridesmaid: She will guard the bride's bedroom door at night (usually a day before her wedding) so that she gets her much-needed beauty sleep. She is always around the bride, making sure nobody ruins her lehenga or make-up. One badass woman, who acts like bride's bodyguard.
Have a news story, an interesting write-up or simply a suggestion? Write to us at info@oneworldnews.in