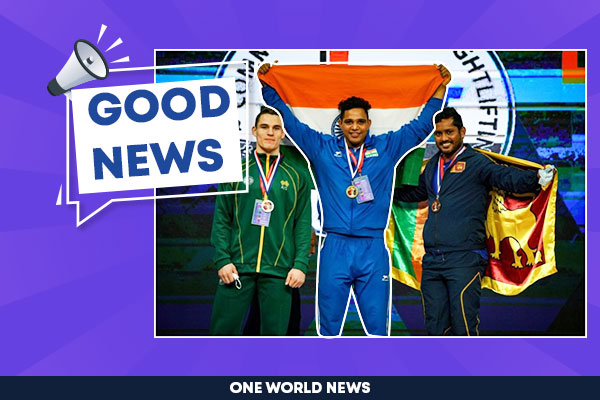 Here are some good news that we received this week
---
After India won the Miss Universe title after 21 years, there was news of a change in the legal marriageable age for girls to rise from 18 to 21 years. There is a lot of good news that we receive this week.
Here are 6 good news stories that made our week best.
Good news: UP becomes the 1st state with 6 crores fully vaccinated people
Uttar Pradesh has reached one more milestone in the COVID vaccination drive as it becomes the first state in the country with more than 6 crores of fully vaccinated persons.
As per the data over 40% of the people have received both doses. Around 18 crore doses have been administered in UP and it has nearly 13% of the fully vaccinated population of India.
Good news: 'Durga Puja in Kolkata' enters UNESCO's representative list of the intangible cultural heritage of humanity
Durga Puja in Kolkata has just been inscribed on the #IntangibleHeritage list.

Congratulations India!

Source: UNESCO#DurgaPuja #Kolkata pic.twitter.com/BCJKz8G0T9

— One world news (@Oneworldnews_) December 16, 2021
India's rich cultural heritage yet again gained global recognition as the Intergovernmental Committee of UNESCO's 2003 Convention on Safeguarding of the Intangible Cultural Heritage has inscribed 'Durga Puja in Kolkata' on the Representative List of Intangible Cultural Heritage of Humanity.
From India 14 intangible cultural heritage elements have been made into this list including Kumbh Mela (inscribed 2017), Yoga (inscribed 2016), 2003 UNESCO Convention aims for protecting the intangible of the Intangible Heritage along with living expression and traditions.
Good news: IIT Delhi designs a kit that can detect Omicron variant in 90 minutes
WATCH: Researchers at @iitdelhi have developed an RT-PCR based assay for the specific detection of the #Omicron variant of COVID-19 within 90 minutes. pic.twitter.com/BRNJxnpAjh

— Asianet Newsable (@AsianetNewsEN) December 14, 2021
In their path-breaking research, IIT Delhi's Kusuma School of Biological Sciences has developed an RT-PCR-based assay for the specific detection of the Omicron (B.1.1529.1) variant of SARS-CoV-2.
It can detect specific mutations, which are present in the Omicron variant and absent in other currently circulating variants of SARS-CoV-2. This kit will enable the test for the identification of the Omicron variant within 90 minutes.
Good news: Ajay Singh clinches gold in commonwealth weightlifting championships
Weightlifting Update:

India secures 2 more medals at Senior Commonwealth Championships 2021 with Ajay Singh winning GOLD in Men's 81kg with Total lift of 322kg (147kg+175kg) & Popy Hazarika winning SILVER in Women's 59kg with Total lift of 189kg (84kg+105kg) @Media_SAI pic.twitter.com/pCKrBpgxlA

— Prasar Bharati News Services पी.बी.एन.एस. (@PBNS_India) December 13, 2021
India's phenomenal run continues at the Commonwealth Weightlifting Championships as in the men's 81 kg category, Ajay Singh bagged a gold medal and it is the 3rd gold for India.
Other than him, Popy Hazarika won a Silver (women's 59 kg) with a total lift of 189 kg (84+105). In the women's 71 kg category, Harjinder Kaur clinched and Lalchhanhimi settled for bronze.
Good news: Harnaaz Sandhu crowned as Miss Universe 2021!
After 21 years, India's daughter Harnaaz Sandhu was brought back with the Miss Universe 2021 title at Universe Dome in Eilat, Israel. Sandhu beat 79 other contestants from all across the globe to receive the prestigious crown from Mexican beauty Miss Universe 2020 Andrea Meza.
Harnaaz Kaur Sandhu 'Beautiful' message for every young woman will make you believe in yourself!
The pageant included talent rounds like display of swimwear, national costumes, and a series of interview quizzes to judge contestants' oratory skills and public speaking skills. After Sushmita Sen in 1994 and Lara Dutta in 2000 received the title, Harnaaz is the third Indian woman to enter the club.
Good news: Cabinet gave the nod to raise the marriageable age of girls from 18 to 21!
The Union Cabinet cleared the proposal to raise the marriageable age of girls from 18 to 21. In India, the legal marriage age for boys is also 21. As per the sources, the government had taken this step to examine imperatives of lowering Maternal Mortality Rate (MMR), matters about the age of motherhood, improvement of nutritional levels, and related issues. The change will be introduced to the Prohibition of Child Marriage Act, 2006, and consequently bring amendments to the personal laws such as the Hindu Marriage Act, 1955, and Special Marriage Act.
 Have a fantastic weekend!
Liked this post?
Register at One World News to never miss out on videos, celeb interviews, and best reads.