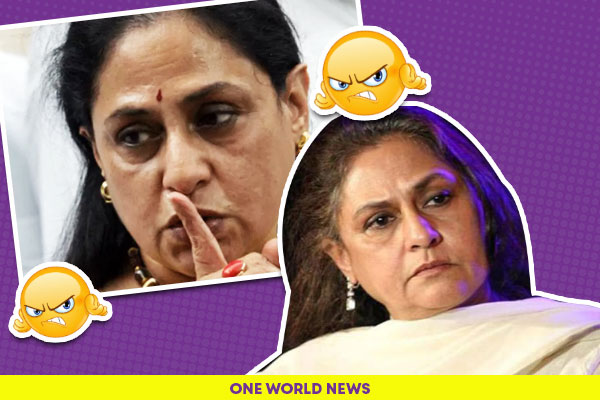 5 Incidents when Jaya Bachchan lost her cool
---
Jaya Bachchan is one of the most celebrated actresses of Yesteryear. She is known for her fierce attitude and unfiltered opinions. She is currently making a lot of headlines for her ugly spat in the Rajya Sabha. Notably, Jaya Bachchan is a Member of Parliament. On December 20, 2021, the Rajya Sabha was adjourned after a verbal spat between Jaya Bachchan, the Samajwadi Party MP and Treasury benches. The former said that personal comments were made on her and went on to curse treasury benches.
She also warned Bhartiya Janta Party that their bad days will begin soon. Well, this was not the first time when Jaya Ji's lost her cool, let us take a look at 5 incidents in past when Jaya Bachchan lost her cool!
1. When Jaya Bachchan Slammed Kangana Ranaut for her Gutter Comment
During the monsoon season in 2020, Jaya Bachchan slammed Bollywood actors Kangana Ranaut and Ravi Kishan for their gutter comment. She lashed out at Kangana for defaming Bollywood and went on to say – Jis Thali Mai Khate hai Usi mai chhed karte hai.  Notably, it all happened when the controversial death of Sushant Singh Rajput was discussed all across the nation.  Jaya Bachchan said that people who have made a name in the industry are now calling it a gutter. Later, Kangana Ranaut also reacted to her remarks and said those who turn a blind eye are also criminals.
2. Should be Lynched: Jaya Bachchan on Vet Rape and murder case in Telangana
Well, Jaya Bachchan has no filter when it comes to putting out her opinions. In the year 2019, the Vet Rape and murder case of Hyderabad made a lot of headlines. The horrific incident shook the entire nation and left people in rage.  In a discussion on the increasing crimes against women in India, Jaya Bachchan said that these people should be lynched in Public. Her recommendation in the parliament got a mixed response from the people all across the country.
3. When she addressed Paparazzi as Junglee
We all know about Jaya Bachchan's not so warm equation with Indian media. During an episode of Koffee with Karan, Abhishek Bachchan had even revealed whenever the entire family step out, they pray that there should be no Paparazzi. In the year 2014, when the entire Bachchan family stepped out to cast their vote Jaya Bachchan said – Kaise Jungli Ki Tarah Behave kar rahe hai! She angrily remarked looking at the photographers and Abhishek Bachchan had to calm her down.
 4. When she schooled Papps for calling her Aishwarya Aish
In 2013, during Subhash Ghai's birthday bash, one of the photographers happened to call Aishwarya Aish and didn't go well with Jaya Bachchan. She went on to school the photographer and said – Yeh Tumahre school mai padti thi? Notably, she was backlashed for her rude behaviour with the photographer.
5. When she rudely replied – I am not the spokesperson for the rest of the family
During a Press conference, Jaya Bachchan was asked about Amitabh Bachchan. To which, the actress replied what is your name? Mera naam kya hai – Bachchan saab ko puchiye. Unka Press Conference chal rahi hai, please waha jaiye aur puchiye.  I am not the spokesperson for the rest of the family.
Omicron Update: Total Tally of Omicron cases stand at 57 in India, how much you should worry?
Notably, Aishwarya Rai Bachchan was recently summoned by ED in connection to Panama Papers. She was questioned for six hours. As per reports, the actress has submitted all the records of foreign payments that she has received in the last 15 years. Her name had earlier also emerged in Panama papers leak.
Liked this post?
Register at One World News to never miss out on videos, celeb interviews, and best reads.