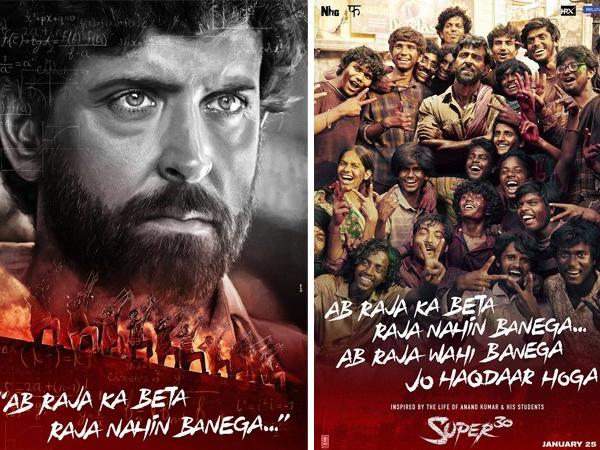 Super 30 threw light on very important issues about education system in India
---
Hrithik's Roshan Super 30 has spent more than a month now on box office and is still attracting people. The film which received mixed reviews has earned more than 140 crores on the box-office so far. I hope you would have seen the movie by now, if not, don't read it. There are major spoilers to come. The story of mathematics magician threw light on very important issues based on the education system in India. Here are the five lessons to learn from Super 30.
Math is like sports
Math is like sports, more you practice more you will learn. Anand Sir has said that people who solve mathematics are mathletes like the athletes in the sport.
English is just a language. Get over the fear of speaking it in Public.
English is still a barrior in remote places where the education level isn't that good. In the movie, we saw the first batch of super 30 wasn't able to perform well in the competitive test against the private coaching as they were low in confidence because they couldn't speak English. We had the privilege of learning English at an early age but many people are deprived of it. The movie teaches to unleash the fear of speaking English by speaking more of it.
Break your own records. Set new ones.
Never get satisfied with learning and learn more. Break your own record in your respective field and challenge yourself. Example- If you are solving a mathematics equation in 5 minutes then try again and again so that you could solve it in 4 minutes.
Even at difficult times, back yourself and have the confidence
When Hrithik was shot by goons, he is admitted in hospitals where the goons return to kill all the students. Hrithik says "Use your mathematics and science to defeat them, Have confidence in yourself, you can defeat goons.
Read More – Why Netflix's 'The Great Hack' is a must-watch if you are a frequent Social Media user
Learning is in everything. Keep your senses open.
Hrithik Roshan says in the movie that learning is everywhere. Keep your eyes, ear and other senses open everywhere and learn things from the practical world. From the mechanics of bicycle to observations in human behaviour, there is a lot to learn in life.
Have a news story, an interesting write-up or simply a suggestion? Write to us at info@oneworldnews.com