Editor's Pick
Gandhi Jayanti 2019: 5 Lessons by Mahatma Gandhi to be a successful entrepreneur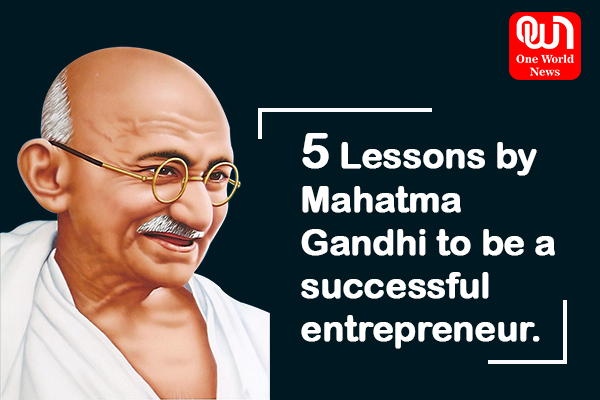 Gandhi Jayanti 2019: 5 lessons by Mahatma Gandhi to be a successful entrepreneur, take a look
---
Every year 2 October is celebrated as Gandhi Jayanti all across the nation. Mahatma Gandhi was a global leader. He is celebrated all across the globe as an idealist who used civil disobedience to get rid of colonial rule from Britishers. Well, there is so much that one can learn from him. Be it patience, peace, or bringing a big change, Mahatma Gandhi has inspired many leaders. But do you know his teachings can also help you to become a successful entrepreneur?  On the occasion of Gandhi Jayanti 2019, here we bring to you 5 lessons that you can learn from him to be a successful entrepreneur.
1. Speak Truth because it is an important part of Business Ethics
He has always preached to speak the truth. Of course, it is important to be diplomatic when it comes to getting your work done. But truth will always help you to be transparent. One should be truthful with his or her clients and employees too.
2. Let the change begin from you
Being an entrepreneur is not an easy task.  There is so much that you need to learn, the road to be a successful entrepreneur is not easy. From handling finances to handling team, there is so much that one needs to do. Mahatma Gandhi preached – Let the change begin from you. For example – If you want your employees to be on time and work dedicatedly, then first you need set example for them.
3. Be Positive – That what you need in the beginning
There would be times when you will feel like giving up.  The road that you have chosen is full experiences that could be good or bad. All you need to do is, 'Stay Positive'. Never give up because your efforts will never go waste.
4. Learn to Forgive- Business too need emotions
You can treat people like machines. Emotions and connectivity are important to run a business. There would be a time when people will commit mistakes, you need to forgive them. Because every time you make mistake you learn something new.
Read more: Inspiring Story of India's Youngest Newspaper Balaknama
5. If you have an idea, give it a try
Do not forget to try. He kept trying for the freedom of India. He wasn't successful for the first time,  he had put a lot of hard work.  That's what we should learn from him, we should at least try. Else, we will regret that we never tried.
Have a news story, an interesting write-up or simply a suggestion? Write to us at info@oneworldnews.com