Lifestyle
5 Essentials for your Winter Wardrobe
Let's see what are the essentials you need to make your winter wardrobe perfect!
---
Winter is just around the corner and you need a perfect winter wardrobe. Of course everyone is different with different styles and aesthetics, but there are a few things that are not only loved by all, but are essential.
These everyday essentials can be combined to create endless cute winter outfits that are classy, comfortable, and practical. Of course fashion is important, but not more than comfort. So here are a few essentials that are not only in style but comfortable as well!
A Trench Coat
It is a universally acknowledged fact that a Trench Coat is always in fashion. You can never go wrong with a Trench Coat. It can be paired with jeans, winter dresses, leggings, a midi or maxi dress, and jumpsuits.
A good Trench Coat can really pull an outfit together. There are various types of Trench Coats available like plain, plaid, faux, fleece, wool, etc. Take the right pick for you.
Also read :- National No Bra Day, Why You Should Sleep Without Bra
Sweaters
I guess it is obvious that a sweater is a necessity for any winter wardrobe. However, all sweaters are not the same. There are sweaters that are chic that you can wear when you go out. But there are sweaters that are made for a comfortable night at home.
Not only this, but they are available in a variety of ranges, like long sleeve crew necks to v-necks, cowl necks, turtlenecks, chunky knit sweaters, and oversized sweaters. Shorter, cropped sweaters are great for pairing with high rise jeans. You can also go for sweater vests which are quite a trend now.
Boots
Although we don't receive snow around most of the country, boots are still very essential. The feet need the most care during winters. We run the risk of catching a cold if our feet are chilled to the bone. While shoes of any kind are good, the comfort that boots can provide is unmatched.
Not only comfort, boots also are extremely chic and can add the extra edge to any outfit one has. Ankle boots are still trending for 2021, and we're seeing a lot of knee- high boots.
Scarves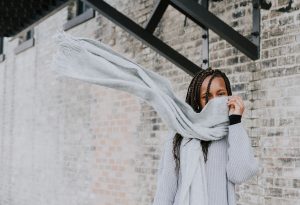 Scarves are very essential for a Winter Wardrobe! The warmth it provides is absolutely unmatched. A lot of people complain of cold necks during the winters. A scarf is a perfect solution for them. Scarves are probably the most versatile things in every winter wardrobe. They can be used as belts as well! They come in various shapes and sizes. There are so many options to layer and pair your scarves.
Pants that are not denim.
While a good pair of jeans is absolutely essential, you must also have at least a few pairs of non denim pants. Not everyone works from home or absolutely loves denim. Some people need to be in formal settings, and denims obviously won't work in a formal setting.
A few pair of non- denims can be matched and paired with different sweaters or coats or shirts etc.
Apart from these essentials, you must think of investing in a bag, especially in neutral colours, which is perfect for your winter wardrobe.
Liked this post?


Register at One World News to never miss out on videos, celeb interviews, and best reads.