Lifestyle
5 creative ways to host the most amazing Holi parties at your place
If you want your party to stand out in your society/colony, these 5 creative ways to host Holi party is what you are looking for
The whole country will be celebrating Holi, the festival of colours on 10th March with great enthusiasm and zeal. We all want to be with our friends, family or bae on this day, which calls for party and huge celebrations. Who wants to be alone on this day, we want all our gang to turn up so that we can party together, and have a memorable time.  If you are looking to throw an amazing Holi party and get all your loved ones under one roof, we are here to suggest you 5 creative ways to host Holi party at your place.
1. Prepare fun invites
Holi is not a formal occasion, so don't send those cliché invitation cards to your guests. Instead make some creatives. If needed, take help from your Graphic Designer friend. Write some quirky lines in the invite and then Whatsapp your invitation to everyone you want to call.
2. Add Exciting street food to the menu
No party is a party until you find your favourite dish on the menu. Keep the theme Indian, because hardly anyone would want to eat Italian or Chinese after celebrating a quintessential Holi. Chhole Bhature, Pav Bhaji, Biryani, Paneer Tikka could make people drool over your food. Keep sugar free Gujiyas, baked samosas and other health-friendly options for health-fanatics.
3. Play the peppy music
If you don't play Rang Barse on Holi, your party is incomplete. Make a list of Holi songs before your guests arrive. Don't forget to put Balam Pichkari (YJHD), Holi Ke Din (Sholay), Do Me A Favour Let's Play Holi (Waqt – The Race Against Time),  Ang Se Ang Lagana (Darr) in your pplaylist. If you have friends from Bihar, Uttar Pradesh and Jharkhand, play one of those Holi special Bhojpuri dance number. Rent a karaoke machine and your Holi party will become one of the best memories of all the attendees.
4. Ditch Gulal or water colours and use flowers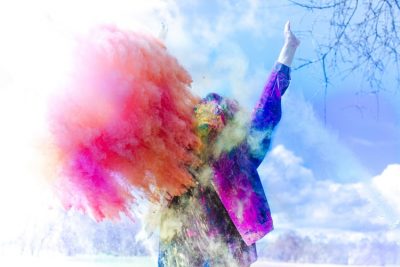 To have e fun party at home, it is not necessary to play with water colours or Gulal. Instead of buying colours from shops, making colours with flowers would be more fun and interesting. To make your own chemical-free colours, you need to boil the petals of marigold in hot water a night before. Then mix it with powdery ingredients like milk powder, Multani mitti, besan, sandalwood powder, coarse besan.
5. Dress Code
Like they do it in movies, keep a dress code in your Holi party. Nothing could be more interesting than White colour. White outfits are best suited for all the colors to shine and make you look more cheerful and photogenic. We would suggest you to ask your guest to come up with non-expensive white clothes for the Holi party at home. The best thing about wearing white clothes on Holi is that your Instagram profile will look a lot better after Holi party.
Have a news story, an interesting write-up or simply a suggestion? Write to us at info@oneworldnews.com