Lifestyle
21 Funny Christmas WhatsApp Messages To Send To Your Loved Ones!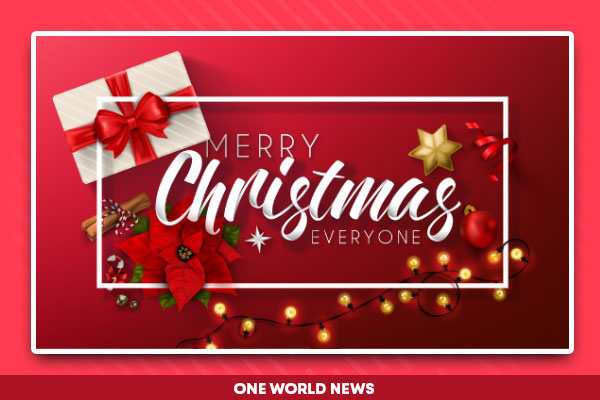 Christmas 2021: Here are some Christmas WhatsApp Messages that are worth sharing.
---
Christmas dinner is ready, gifts are already wrapped and the tree is decorated- probably you must be all set to celebrate your Christmas Eve with your favourite Christmas carols. However, there is one more thing, which is essential to commence the celebration. No, we are not talking about Santa, although he is an integral part of it. Here we are waiting for your Christmas WhatsApp Messages.
Maybe in the world of smartphones and technology, handwritten notes and Christmas cards are not trendier. However, personalized Christmas WhatsApp Messages, greetings, or wishes can make this Christmas even more special for your loved ones.
Therefore, we are here with 21 hilarious Christmas WhatsApp Messages that are worth sharing.
 You are a gift in my life. Moreover, not the kind I would return for store credit. Merry Christmas.
2. A Christmas reminder: Do not try to borrow any money from elves … they are always a little short! Have a Merry Christmas.
3. They say the best Christmas gifts come from the heart. Nevertheless, cash and gift cards do wonder too! Happy Holidays!
4. Please note: Christmas is cancelled. Apparently, you told Santa you have been good this year. He died laughing."
5. I hope your smile will be as big as your credit card bill this Christmas! Wish you good luck and a lot of fun. Happy Christmas!
6. I hope Santa fills our socks with cash instead of gifts and toys. I know you hope for the same. Merry Christmas.
7. Christmas is truly full of wonders. It makes all my savings disappear! That is the magic of this day. Merry Christmas!
8. Christmas is all about spending time with good people. So, I am trying to find those pals. Suggest if you know any. Merry Christmas, sweetheart!
9. May your Christmas be as fat, happy, and plentiful as Santa's. Merry Christmas.
10. Remember to smile and enjoy your time. Because when Christmas is over, nobody will care whether you exist or not!
11. I have finally found the true meaning of X-mas, it is for those who cannot spell Christmas.
12. I hope Santa does not find all the faults you have been keeping under the blanket Merry Christmas dear!
13. Santa Clause exists, and he has to work during the holidays. How pathetic!
14. I have never decked the halls and I have no idea what jingle bell rock is. But I hope your Christmas rocks!
15. Sometimes I feel like I should leave my Christmas decorations up all year; it seems that by the time I take them down, it is time to put them back up again!
16. If I were to rewrite the "12 days of Christmas," I would include things like chocolate, cocktails, and fancy dinners instead of French hens and turtle doves.
17. Santa can definitely do some pretty amazing things. But I really wish he could make "late fees" disappear off of bills. Merry Christmas!
Merry Christmas! Decorate your house with these easy DIY Christmas Decor
18. Merry Christmas! May you receive presents that make you happy, no fruitcakes, and ugly Christmas sweaters.
19. This holiday season I think I will donate my bathroom scale. That way I will not be weighted down with guilt into the New Year.
20. This holiday season; let us make it a point to cherish what is truly important in our lives: cookies.
21. This Christmas, may your family be functional and all your batteries are included.
Which Christmas WhatsApp Messages are you picking? Do not forget to tell in the comment session how you are celebrating your Christmas Eve.
Have a very Merry and wonderful Christmas!
Liked this post?
Register at One World News to never miss out on videos, celeb interviews, and best reads.