JOYOUS NEWS
10 secret ingredients that will make your food delicious
Secret ingredients in food to make food tastier
---
Indians are foodie and they love to do experiments with spices. Anyone you can find them basically in most Indian dishes. Actually, they all have an affair with spices which is being used in food. These secret ingredients have gained so much popularity and because of that people from West got intimidated by the Indian cooking pattern.
Spices are generally known to add distinctive flavor and aroma to the Indian food and in additional loads of health benefits as well. Cooking is an art and it's all about correctly using the ingredients. With generations of traditions and cultural influence, Indian cooking is all about the secret ingredients.
Essential but Secret Ingredients of Indian Cooking
Cooking is very simple if you will follow the recipe but it is not that much easy. Well, you can be the master of this art if you are aware of the secret ingredients, and how they could enhance the quality of your dish. It is the fine blend of certain ingredients that can make your food super tasty and delicious.
Kasuri Methi: This herb is bitter but has a powerful aroma when put on Indian Curries. These dried leaves are actually from fenugreek plant containing various nutritional properties. Both leaves and seeds are widely used in Indian cooking. Its seeds used in the pickle. Kasuri methi is used as garnishing of curries to add a distinct aroma. Take a teaspoon of dried meethi, crushed in hand and sprinkle on the vegetable or chicken curry to enjoy that different flavor of the dried herb.
Coconut Milk: This healthy substitute was only recognized in the southern part of India. Anyone can make different recipes using coconut milk that is light to digest and taste like tender coconut. If you are making curry and if it's got too spicy, then you can add few spoon of thick coconut milk to lower down the heat.
Peanuts: Wondering, how peanuts are included in this list? Well, it has the most easily available nuts in the market at a cheaper rate. Mostly it is used in fasting recipes but did you know that you can do experiments with it and can make them taste like cashew? Just soak one cup of peanuts with watermelon seeds. Make a paste by adding some milk in it. Most of the restaurants use peanuts instead of cashew and it will taste the same in kitchen budget.
Ginger: If you want to give a spicy kick to your veg or non-veg curry then try adding one tablespoon of fresh ginger paste in the curry. Ginger has a slightly spicy taste which goes well with tea, curry, dal or even in cake also. But mind it, never allow it to get burnt because then it will taste bitter.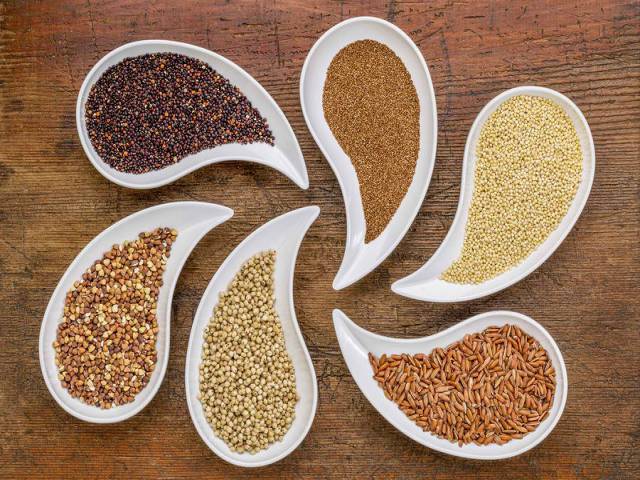 Asafoetida (Hing): For many people who can't eat garlic because of some religious purpose or others who don't like the flavor, you can use more hing to give a delicious taste to your curries. Even hing is also very good for digestion and get rid of the gastric problem after having heavy meal.
Jaggery(Gud): Jaggery is known as a healthy substitute of sugar. If you have a sweet tooth, then you should try making desserts with jiggery. The best part of jiggery is that it is really good for health, natural and gives caramelized flavor to any dessert.
Nutmeg: Another one is aromatic ingredient to use in your daily cooking is nutmeg. It has a dominant flavor, slightly bitter taste and is a natural sedative. Yes, you heard it absolutely right. It is useful to give it to your children in milk so that they can sleep well. One can use nutmeg in sweets as aromatic, and it will help a person feel relaxed instantly.
Cinnamon: If you want to add natural sweetness to a savory recipe, then add one inch of cinnamon in your cooking. You can also use it to add flavor to rice dishes. Cinnamon is good for health also as it lowers down the cholesterol level, sugar level, and control blood pressure when it is consumed with warm water in empty stomach every morning.
Cardamom: It is considered as the most fragrant spice, Cardamom has a minty taste. It is mostly used in Indian sweets; cardamom gives a fresh fragrance and a taste of Indian food. You can add it in biryani, curries, sweets, tea or offer as a mouth freshener.
Black Pepper: If you are making Indian food without using of chilli, there is no existence of it. Every recipe and food contains chilli whether you are cooking veg, non-veg, or pulses. But instead of using chilli you can use a small amount of black pepper in few dishes and it will increase the heat, taste and aroma of any recipe. It is widely used all over the world and this spice contains medicinal properties to fight common with common cough/cold.
Indian food is known for creating a perfect balance of spices and add flavor to make the food sweet, spicy, and sour to a recipe. Well, now it's all up to you which ingredient you will use to create a magical recipe which tastes divine.
Have a news story, an interesting write-up or simply a suggestion? Write to us at info@oneworldnews.in