Women Talk
10 Feminist Dialogues and scenes From FRIENDS that One Must Never Forget

Not a feminist show but here are some Feminist dialogues and scenes from FRIENDS we can't help but recall
---
F.R.I.E.N.D.S., a sitcom that's the most-watched and loved ever. F.R.I.E.N.D.S. is one of the shows that people over generations have been watching. It is a sitcom whose characters have been most celebrated and loved. And of all the things the show is, it is not a feminist show. It truly isn't. There are a lot of traces of misogyny and sexism but still, there have been some dialogues and scenes that are utterly feminist. So, we thought of listing the feminist dialogues and scenes from FRIENDS, and here's the list.
Feminist Dialogues and scenes From F.R.I.E.N.D.S.
1. When Rachel decides to leave her husband-to-be at the Altar, cuts her credit card from her father

Rachel, an extremely feminine character, is one who has transformed the most during the show. The show starts with Rachel leaving her husband-to-be on the Altar when she got to know that he is cheating on him. Irrespective of thinking what people will think, she took that body step. And then, she cuts off the credit card that her father used to pay for and lead an independent life by starting with a waitress job at Central Perk.
2. "I need you to be careful and efficient. And remember: If I am harsh with you, it's only because you're doing it wrong." -Monica
Monika, a character who has her own perfectionist theory. And she will never compromise with what's right. She is independent, disciplined, and 'is her own boss'. In this dialogue, she makes it very clear that she is not gonna compromise and hesitate to call anyone out if they are not doing things rightly.
3. Ross walks Carol, his ex-wife, Down the Aisle
Nothing can be more feminist than an ex-husband accepting that her wife was 'lesbian' when they already have a baby together. And here, Ross doesn't just accept it but also walks her ex-wife Carol to the Aisle, on her marriage with her female partner Susan when Carol's father refused to attend their wedding. And then Susan says, "You did a good thing today."
4. "No Uterus, no Opinions" – Rachel
This dialogue is from when Rachel was pregnant. She unabashedly refuses any opinions of men about women by simply saying that she is not gonna take any advice from people who don't to endure the pain women's bodies do.
Read More: From Munmun Dutta to Neera Tanden, a Weekly Wrap of Women in News Last Week
5. Pheobe chooses to be A Surrogate Mother
Frank and Alice were facing fertility troubles and hence, to make their pregnancy successful, Pheobe chose to be their surrogate. She gave birth to triplets and gracefully gave them to Frank and Alice.
6. Joey: Hey Pheebs, you wanna help?. Pheebs: Oh I wish I could, but I don't want to!
Making a choice is not a problem. Saying 'No' is not a problem. Pheobe, the most feminist of them all is a woman, who is the master of herself. She won't do a thing that she doesn't wish to do.
7. Rachel Becomes a single, independent mother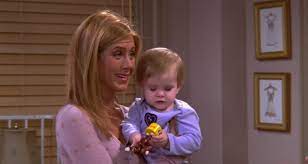 Rachel accidentally gets pregnant when she slept with Ross and regardless of her history with Ross, she decided to be a single, independent mother. Even Joey proposed to Rachel but she decided to be a single parent.
8. "Marriage. It's not for everybody"-Monica
#Chandler: "The Phone. Bringing you closer to people who have phones."#Monica: "Marriage. It's not for everybody" pic.twitter.com/Jj5Xhw87cO

— F.R.I.E.N.D.S Fan (Please RT) (@friends_quotes1) December 2, 2015
As simple as Monica puts it, Marriage is not for everybody. A show in the 1990s said it, and we are still not getting it straight. Marriage is not everything, the institution of marriage doesn't define everything.
9. Emma gets a 'he' Nanny
A nanny doesn't have to be a woman. Ross reacted not quite nicely to the idea of having a male nanny for the daughter, Emma. And to that, Rachel says, "Ross is being ridiculously close-minded and old-fashioned, and Sandy's hired." Again, we see a strong and slaying Rachel.
10. Rachel gets back to work after Emma's Birth
Motherhood can't restrict you from working. Rachel when gets the news that she might get replaced, cuts her maternity leave, and competes for her position, and successfully nailed it. Though, her office not allowing her proper maternity leave and creating this pressure was not so progressive.
Have a news story, an interesting write-up or simply a suggestion? Write to us at info@oneworldnews.com