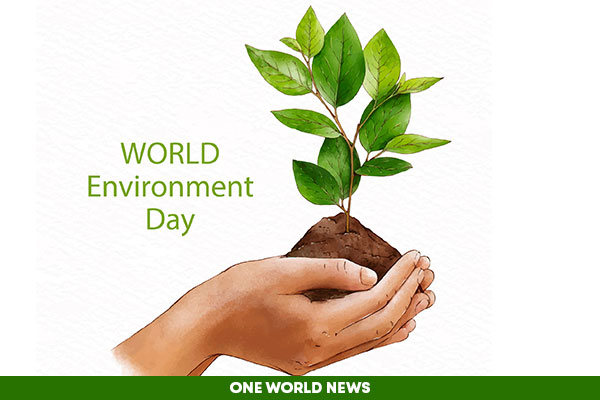 World Environment Day "We are in an environment emergency situation. Conditions are not improving anywhere." – Verhaen Khanna, NDNS President
---
We all see 5th June as World Environment Day. And this year, the theme of World Environment Day is "Living Sustainably in Harmony with Nature". Keeping in mind the climate change, extreme heatwaves, it is important to make our regular choices a little more environment friendly.
While we can see the problems we have caused to the environment, the way the environment has been degraded, and how we are already facing the repercussions of the same, yet many people are in denial of the fact that we are in an environment emergency situation. We spoke to Verhaen Khanna, of New Delhi Nature Society regarding the adversities being done to the environment and how are we still in denial of the fact that we are living in an environment emergency situation.
Answering to 'are we living in an environment emergency situation', he said, "Yes we are in an environment emergency situation. Conditions are not improving anywhere. People, buildings, vehicles, pollution is increasing, while trees, forests, rivers, air quality, etc are decreasing. The world's most polluted city, New Delhi, has trees being felled legally and illegally every day which is not helping the existing situation.
Wildlife Species are going extinct, forests are being cleared mainly for "wants" and not the "needs" of people. Exploiting natural resources is going out of control, but it can be balanced if people make conscious and sustainable decisions. A lot of our environment is being sacrificed for the sake of the economy, so the best way to move forward is to focus the consumer demand towards a sustainable lifestyle. When people demand sustainable living then unsustainable ways are not required as much."
Major Environmental Problems
Talking about the major environmental problems, he said, "we need to protect our trees and the environment around us. Just sitting and waiting for somebody to come and save your environment is not the best solution. Each one of us needs to understand the importance of environment conservation. With more participation, the environment stands a better chance, and we all know that a better environment ensures a better future for the younger generations.
Right now we take trees for granted, we need to really praise the existence of trees in our environment because they keep us alive and they sustain all the biodiversity. Trees in cities are suffering due to concretization, we need to give them their rightful space with enough soil around them. Nobody fills their flower pots with cement right? Trees with good soil space will also improve the groundwater table, prevent flooding and erosion, control ambient air temperature, and feed the non-human life existing around there."
Read more: Why people born in June are known as Social Butterflies?
What has been people's attitude towards climate and environmental crisis?
"Majority of People, in general, are not very well aware of the climate crisis knocking on our door. Also, the current systems are focusing on the economy at the cost of the environment. Just shifting from a meat-eating diet to a vegetarian or vegan diet can save a lot of land and earth resources. The youth is more concerned about the environment because they have to live with the mess left behind by the previous generations. We all need to focus on shifting our actions to more sustainable ways in order to protect the environment." – Verhean Khanna
So, on this World Environment Day, one of the things that people need to realize is that they need to come out of the denial mindsets and accept the needs of the environment at present. Climate change, degradation of natural resources, etc are real. They are happening and can't be ignored. And if not acted upon now, when we are already in an emergency situation, then a situation even worse is likely to come. Today, we have solutions, then we won't even be left with anything to look after.
Liked this post?
Register at One World News to never miss out on videos, celeb interviews, and best reads.