SOCIAL NEWS
Surprising Diwali Gift Hampers to Impress Your Loved Ones!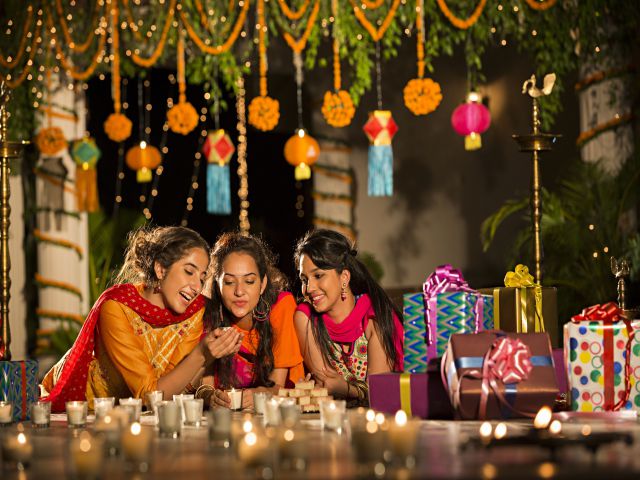 Delight your loved ones this

Diwali

: Spread and

Happiness
---
Let this Diwali, the festival of lights, not only bring light to our lives but also spark your relationships. Diwali 2017 is around the corner and everyone is currently busy buying best gifts for their friends and family, right? So we decided to make life easier for you, and handpicked some of the most creative Diwali gift hampers packed with artisan and specialty goodies that you can gift your friends this Diwali.
Related : 5 DU Diwali Melas you just can't miss: Are you ready?
We usually tend to take our parents, friends and loved ones for granted and usually, fail to appreciate their importance in our lives. Why not try changing this trend this festive season? Here is a list of gifts that you can explore to strengthen your relationships.
Exotic Tea Hampers: A lot of tea boutiques are offering tea hampers that can be customized as per your liking. You can gift some aromatic floral tea, herbal green tea and other festive blends along with accessories like cute strainers and infusers. Tea box, which is an online tea shop, is offering a special range of flavored teas with spices, nuts, and flowers for Diwali – all packed in beautiful tea boxes.
Sweets: The ritual of gifting sweets is an age-old custom and tradition in India. In earlier days, people used to gift homemade sweets and delicacies to their family and friends as a Diwali custom. Now, we are in the 21st century, but then also many people follow this tradition. You can choose to gift sweets specific to the occasion. Instead of it, if you are looking for a modern twist to this custom, you can gift chocolates or desserts instead.
Gift Hamper with Flavored Nuts: Someone who doesn't particularly have a sweet tooth, you can gift dry fruits and nuts as a safer and better option. But this time leave the boring boxes of plain almonds and cashews and pick these Peri Peri Flavored Almonds or Cheddar Cheese Cashews instead. Online store Nutty Grittiest offers dozens of delicious munchies to choose from. You can select a pre-packaged gift hamper or customize your own. For a gift pack of flavored makhanas and caramelized nuts, divinity can be a great option.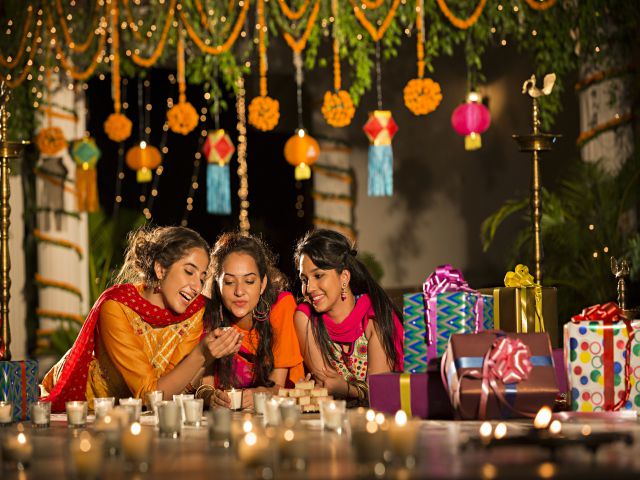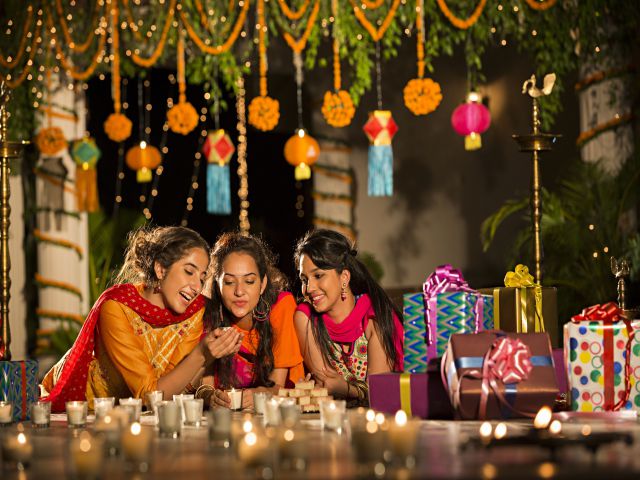 Related : Festivals that are celebrated like Diwali in foreign countries
Specialized Diwali Gift Hampers by Hotels: A Lot of hotels are offering exclusive festival hampers to make Diwali 2017 a memorable affair. You can make your family, friends and loved ones feel special by these hampers. Go and spend some quality time with them and make them delight as much as you can.
Artifacts: Diwali season is also the time of the year when many people clean their home and bring some changes to their homes; decorate your entire home with adding some showpieces. It can up the glam quotient of their living spaces. For those who love to decorate with traditional gifts, you can opt for miniature idols, decorative candles, votive holders, frames, or other statement artifacts.
Bakes and Cakes: A lot of bakeries around the city are offering amazing Diwali gift hampers with sinful treats. Some bakery shops are giving Diwali gift hamper packed with their best-baked items like French hearts, cookies, and Italian Biscotti. Their gift hampers are loaded with goodies like brownies, biscotti, cheese sticks, chocolate bars, Nutella sea salt cookies and much more. You can search these places around you and can enjoy the taste of bakes and cakes.
Accessories: Diwali is the perfect time to indulge in gifting fashion freaks. Be trendy and gift some accessories like jewelry that your BFF loves, or the designer handbag collection that your childhood friend is obsessed with, or maybe some brand which your loved ones love to relate their self. Well, there is no better time to surprise them.
Health Box: This Diwali, do something different and show that you really care for your loved ones. Some offline stores and online shopping sites are offering some wonderful organic and delicious health foods. You can choose from a range of Superfood Gift Hampers, Healthy Seed Gift Hampers, Essential Oil Gift Hamper and more.
Whatever you choose to gift your loved ones but make sure that your gift conveys your message of love, care, and gratitude and see them sparkle with happiness. With Indian traditional festivities lined up, this is probably the best time of the year to indulge in some good food and rejoice to make this Diwali special by gifting them memories.
Happy Diwali 2017!
Have a news story, an interesting write-up or simply a suggestion? Write to us at info@oneworldnews.in