JOYOUS NEWS
Navaratri Special: Delicious Recipes to try during Fast
Super Amazing Recipes You Can Try In Navaratri
---
It is one those time of years when the idols of goddess Durga are ornamented by jewels, kumkum, bangles, flowers and attire. Environment gets filled with aromas and the sound of bells. Navratri is considered one of the biggest Hindu festivals in which people worship goddess Durga and her 9 avatars for 9 days. A lot of people do fasting to seek the blessings of Maa Durga during Navararti.
Here Are Some Super Amazing Recipes Which You Can Try during Navaratri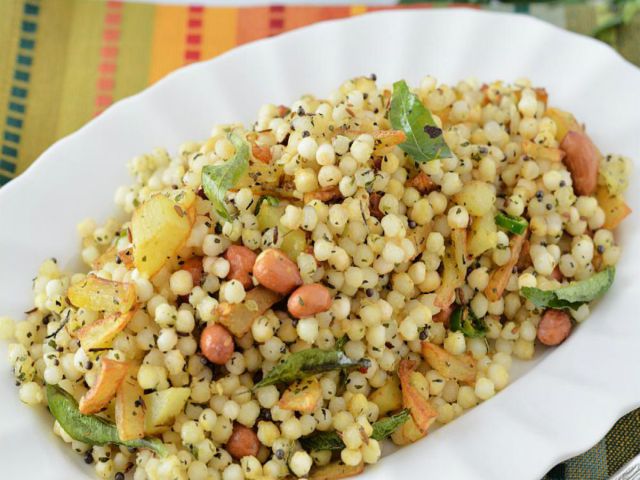 Sabutdana Khichdi:
Sabut dana is very rich in carbohydrates and starch and gives you energy, when you are on your fast.
Prep Time:5 minutes
Cook Time:15 minutes
Total time: 20 minutes
Ingredients:
Sabut Dana(1cup)
Peanut(1/2 cup)
Ghee(2tbsp)
Red chilli(3-4)
Curry leaves(1-2)
Rock salt(sendha namak)
Chilli powder(1tbsp)
Coriander leaves(1tbsp)
Chopped green chilli(1)
Lemon juice(1tbsp)
How To Cook?
Soak sabudana for at least 3 hours and drain the water well from it. It is very important to dry them very well. Otherwise, sabudana will stick lumps will be created.
Mix sabudana, peanuts, salt and chilli powder well.
Take a pan and heat ghee in it, and add zeera, red chilli and curry leaves to it. When chilli color gets changed. Add the sabudana mixture in it and slow down the gas and cook it for sometime..
Take it off the heat and add lemon juice in it. Garnish it with coriander leaves and chilli.
Aloo Ki Kadhi
Potatoes are full of starch and give you energy. So, why not try anything new with potato?
Prep Time:10 minutes
Cook Time:30 minutes
Total time: 40 minutes
Ingredients
Mashed Potato(1/2kg)
Rock salt(2tbsp)
Chilli powder(1/2tbsp)
Singhare ka aata(1/2cup)
Oil for frying
Sour yogurt(1/2cup)
Spring curry leaf(1)
Cumin seeds(1/2tbsp)
Red chillies(2)
Chopped ginger(1tbsp)
Coriander powder(1/2tbsp)
Coriander leaves to garnish
How To Cook
Mix the potatoes, chilli powder, singhare ka aata together to make a thick batter. Put aside ¼ of the mixture and rest will be made into pakories.
Heat the oil to make pakories. Fry pakories till they turn golden. Drain the pakories on absorbent paper and keep them aside.
Add the yogurt in the remaining mixture. Make a smooth paste and mix it with water.
Take a heavy based pan and reheat the same oil. Add curry leaves, cumin seeds and whole red chillies in it. When the ingredients turned slightly darker, add ginger and sauté a little.
Add the yogurt mixture, salt and coriander powder and bring to a boil and then simmer over low flame until it become thick a bit. Stir it well to remove any scorching.
Now, add the pakories and simmer it with the batter for few more minutes.
Garnish it with coriander leaves and serve hot.
Banana Walnut Lassi
Ingredients:
Low fat yogurt(1cup)
Banana(1/2)
Walnuts,almonds(5-6)
Sesame seeds or flax seeds(1tbsp)
Honey(1-2tbsp)
How to Cook?
In a food processor put banana, pour yogurt, walnuts, almonds, sesame seeds, honey altogether.
Blend them well till the mixture become smooth.
Pour the drink into a glass and garnish it with walnuts and serve it cold
Have a news story, an interesting write-up or simply a suggestion? Write to us at info@oneworldnews.in