KNOW YOUR PASTA
What comes to your mind when you hear the word "Pasta'?
Perhaps the long strands of spaghetti or the spiraled Fusilli soaked in tangy tomato sauce or blended smoothly in a rich white sauce. Or maybe you imagine the chunky penne with a yummy pesto sauce covering the insides. These may be a few names that strike you instantly when you hear the word pasta. But did you ever wonder how many ways there are to enjoy your plate of pasta? Here's your very own food guide to pasta knowledge!
Did you know that there are around 310 specific forms of pasta which are known by over 1300 names throughout?
A staple Italian food, Pasta is a noodle made from unleavened dough of wheat flour which is mixed with water and then created into sheets or into a variety of shapes. It is also made from flour of other cereals and eggs can be used in place of water to achieve thicker consistency.
The plethoras of pastas that are available in the markets derive their names from the various locales of Italy. Pasta is such a favorite amongst the locals of Italy that the consumption exceeds the production of wheat in the country and they have to import wheat from outside to fulfill the demands of the pasta-lovers.
There are two main types of pasta: Pasta Secca which is referred to the dried pasta and Pasta Fresca which is referred to fresh pasta.
Fresca: Fresh Pasta was traditionally produced by hand and was made locally with fresh ingredients. Prepared by mixing together eggs and all purpose-flour, this type of pasta is tenderer as compared to dried pasta. The sauces that are prepared for this type of pasta are lighter as the main highlight in the dish is the pasta and not the sauce. This variety of pasta does not expand in size after cooking. Examples of Pasta Fresca are Fettuccine and Lasagne and are best served with meat, vegetables and cheese. Commonly prepared dishes are Ravioli and Cannelloni.
Secca: Dried Pasta is often referred to the factory produced pasta. The common ingredients used are semolina flour and water. To add richness to the flavor eggs may be used. This pasta is used to serve heavy dishes like Ragu sauces, casseroles and soups.
A variety of dishes can be prepared with the different forms of pasta that are long, short, flat-shaped, miniature soup shaped, stuffed etc. However, all the pasta dishes can be combined under three main categories:
• Pastasciutta: Where the pasta is plated and served with a simple sauce and/or condiments.
• Pasta in Brodo: In this type of pasta is combined with soup and served.
• Pasta al forno: In this pasta is incorporated into a dish that is later baked.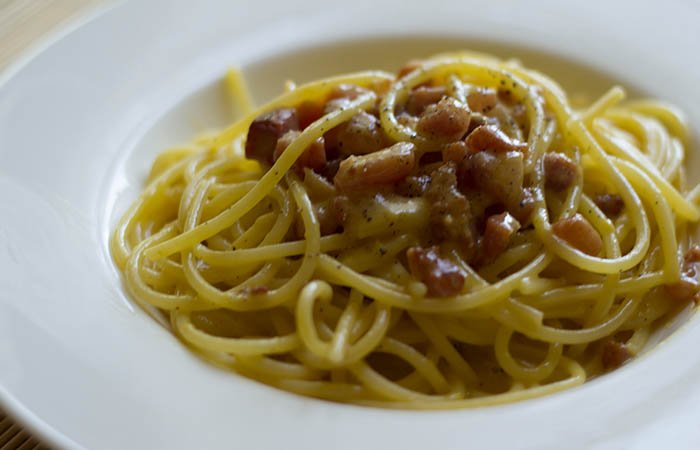 Pastas originally weren't served with sauces. They were to be eaten boiled and cooked with salt. Adding tomato sauce came as a revolution in pasta cooking. However, now there are a variety of delicious sauces that have been created to add zing to the pasta. The basic rule followed to match a sauce to the pasta is generally based on the consistency of the pasta and the ease with which it can be eaten.
For instance, light sauces like pesto are served with long and thin strands of pasta like spaghetti and fettuccine. But when we use chunkier pastas like Rotini or Fusilli, thicker sauces like tomato sauce are recommended as they tend to spread better in the tubes and holes of these pastas. The ratio of the sauces with pasta, traditionally, used to be lesser than the pasta and the bread that is served alongside the dish was to swipe clean the sauce from the plate.
There are several types of sauces that have been invented by culinary enthusiasts all over the world to douse their pastas in. Here are a few of the popular pasta recipes that are the favorite of foodies all around.
1. Carbonara: The name is derived from the sauce that is used in this dish which is prepared with eggs, cheese, black pepper and predominantly bacon. This creates a creamy light sauce that is then blended with long stranded pastas like fettuccine, linguine, rigatoni etc.
2. Alfredo: This tempting sauce is prepared with a mixture of Parmesan cheese and butter and is poured on pastas like fettuccine or spaghetti until completely soaked.
3. Lasagne: A popular form of pasta, Lasagne is available in sheets that are placed on top of each other with layers of filling between each sheet. The filling is an alternation between rich sauces and chunky meats and vegetables.
4. Mac n' Cheese: Another all-time favorites, enjoyed especially by children is mac n' cheese. Prepared with the pasta macaroni which are miniature bent tubes which are then coated with layers of cheddar cheese and also includes chunks of bacon and ham to add flavor. Macaroni can also be had in the form of salads.
5. Pasta al Pomodoro: Prepared with fresh ingredients like olive oil, fresh tomatoes, basil, and thyme and tossed with chunky ribbon-cut pastas or penne.
6. Ravioli: Often called dumplings, these are pastas that have fillings between two layers of thin egg-pasta dough and are served in a broth.
7. Spaghetti Aglio e Olio: This is prepared by tossing pasta, mostly spaghetti or Rotini with olive oil, garlic and hot chilli peppers. Served without sauce, this dish is infused with flavor of herbs.
Have a news story, an interesting write-up or simply a suggestion? Write to us at
Comments
comments