Anupam Kher talks about Depression: He launched The Spirit of the River
---
The Bollywood's veteran actor Anupam Kher marked his presence in the capital for the release of a book "The Spirit of the River", a spiritual fiction, based on the concept of depression. Apart from Anupam Kher, other great personalities including the author of the Novel Karina Arora and the CEO of Hay House publishers Ashok Chopra were present to launch the book.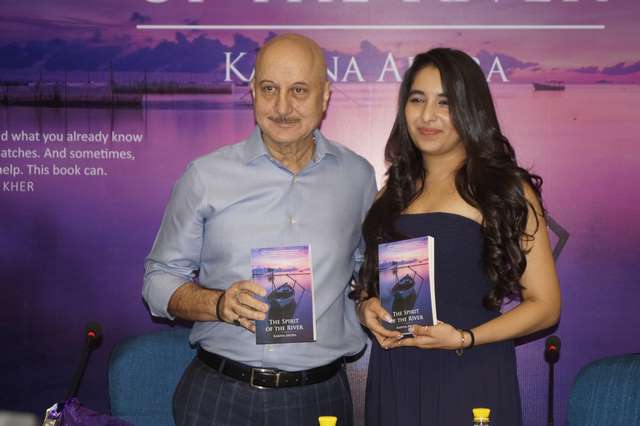 Featured by the Hay House publishers "The Spirit of the River" highlights every kind of emotional and spiritual load, which is carried by humans on a daily basis. It basically throws a light on depression which has become serious disorder now- a- days. The storyline of the novel surrounds by the character of Zoe, a newly turned adult's young life and her tragic experience compels us to start a conversation about loss and its implications.
With her 18th birthday still a happy new memory, is confronted with the untimely death of her parents. The reality of such a huge loss throws Zoe into the dark corners of grief but leads her on an unexpected journey where she learns to experience life on her own. The simplicity in narration is fresh and the story-telling both engaging and inspiring. Story will definitely give you an inspiration.
Actor Anupam Kher was quoted saying, "This book is about the sense of loss, about losing parents in such an age, and how the young girl Zoe copes up with the sense of loss she been through, is the most amazing factor of the book."
Whereas on talking terms about depression among youngsters, he stated, "I think today's youth has the stress about fitting into circumstances, like, 'I want to fit in, I want to look cool' this is one of the biggest reason for them to get indulge in such a stressful zone."
On materialistic things and social media, he said, "You cannot be constantly with machine, like mobile internet and things like that, on certain stage you will become like a machine. Information turns into knowledge only by going through life, otherwise it will be just information." Fighting depression is a battle but proper treatment can treat it."
Comments
comments