Amar Singh's political career gets big Kick
---
Amar Singh appointed as General Secretary
Amar Singh's political career gets big Kick :- Amar Singh who used to be a good friend of Bollywood's star Amitabh Bachchan is once again back in power. Samajwadi Party chief Mulayam Singh Yadav finally appointed Amar Singh as the National General Secretary of the party.
Amar Singh was not active in politics since a long time, but once again Mulayam Singh Yadav has given kicked to his political career. Amar Singh was dismissed from the position and expelled from the party six years ago.
Amar Singh
Mulayam Singh's Letter to Amar Singh
In a hand written letter Mulayam Singh wrote to Amar Singh that he has been appointed as General Secretary of Samajwadi Party. He added that he expect Amar Singh to strengthen the party in coming Uttar Pradesh Assembly elections. The brief letter in Hindi, signed by Mulayam on his Lok Sabha letterhead, was sent to media from state SP chief Shivpal Yadav's official e-mail address.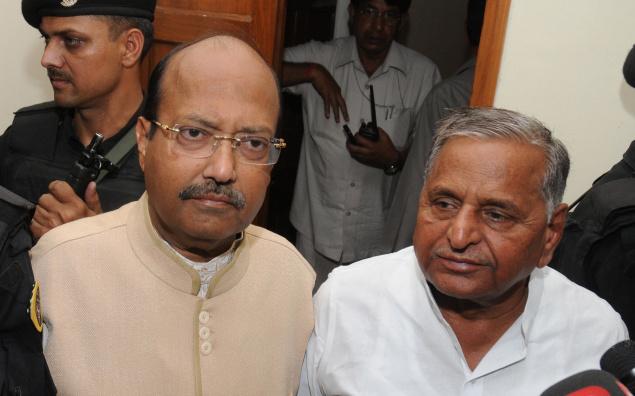 Amar Singh along with Mulayam Singh
Read Here : Akhilesh Yadav clears doubts, calls Samajwadi Pariwar united
What had happened in Past?
Amar Singh and his associate leader Jaya Prada were expelled from the Samajwadi Party in February 2010. After, this Singh had formed his own political party, the Rashtriya Lok Manch — a party that contested the assembly election in 2012. But it seems that time was not in Amar Singh's favour at that time as party could not win even one seat. Singh, and then joined the Rashtriya Lok Dal and contested the 2014 General Elections from Fatehpur Sikri but lost.
Akhilesh Yadav and Shivpal Yadav
Result of Family Drama
After all the melodrama of the Yadav family, we can just say Amar Singh will beneficially enjoy the power now. Dispute between Mulayam Singh his son Akhilesh Yadav and brother Shivpal Yadav was already catching a lot of eyeballs from last few days. The chief minister, who had previously stripped his uncle Shivpal, a minister in his Cabinet, of his portfolios, had to publicly return all but one. He was also forced to bring back a minister he had dismissed from his government over corruption charges.
Read Here : Family battle continues in UP, Amar Singh denies his role in family matter
Akhilesh Yadav tried to tell media indirectly that Amar Singh is responsible for the quarrel in the family. Mulayam's cousin Ram Gopal Yadav also indicated that Singh was "stirring trouble" in the party. But Amar Singh had said that he doesn't have any link to family dispute going on in the family.
Have a news story, an interesting write-up or simply a suggestion? Write to us at
info@oneworldnews.in
Comments
comments